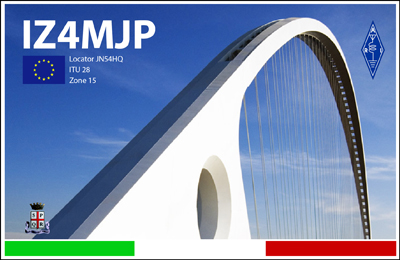 QSL Via Bureau, Direct o via LoTW
I answer QSLs in the same way i have received them
Bureau = Bureau Direct = Direct LoTw = LoTw
Franco Spaggiari
Ufficio Reggio Emilia 7
Casella Postale 8046
42122 Reggio Emilia (Re)
Italy
The image that appears on my first QSL shows the view of one of the three bridges destined to became the symbol of my town, Reggio Emilia. Designed by the spanish architect and engineer Santiago Calatrava, is a piece of art visible passing of the Autostrada del Sole (Motorway A1) near the toll station.
It is a monumental work made of concrete and steel and placed in the context of the new railway station Mediopadana carried out for the TAV project (High Speed Train) currently under construction.
These three bridges represents the best business card of a city in constant transformation that looks to the future starting from this project whose view is fascinating during the day and even more striking at night.